The first question most people should ask before looking for a home is what they can afford. This question can be answered by banks and lending institutions but many people want to know exactly what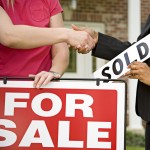 determines the amount of money that a bank or lending institution will allow them to borrow. There are many factors that go into this complex algorithm but there are a few main issues that a borrower should know about.
Debt-to-Income Ratio
A person's debt-to-income ratio is the amount of debt they have versus the amount of income they have. Traditional loans often have a debt-to-income ratio of about 30% and this means that the amount of a person's total debt cannot exceed more than 30% of their gross income. When calculating whether a person has a suitable debt-to-income ratio the lending institution will take their existing debts plus the proposed mortgage payments and compare this to the income. If the total amount is over the threshold then the bank usually cannot complete the loan. Different loan packages have different debt-to-income ratios and some foreclosures can have a ratio as high as 42%.
Down Payment
Most traditional lenders need a 20% down payment with no exceptions. This means that many buyers will be limited by the amount of cash they can put down upfront. When calculating the amount of down payment that can be made the buyer still needs to consider any money they'll need to spend renovating, the amount of the loan origination fees and any other extra expenses that may pop up during the course of buying the home.
Credit Score
A credit score both directly affects the borrower's ability to get a loan and indirectly affects the amount that the loan can be. Credit scores decide how much interest the borrower will need to pay and the mortgage payments are calculated with interest. This means the higher the interest amount the less principle amount the borrower can be paying off and thus the less they can spend on a home. Improving a borrower's credit score is one of the fastest ways to qualify for a higher mortgage amount.
Income
Income is probably the largest aspect to consider when deciding whether a home is affordable or not. When giving information to a bank a borrower needs to be careful to consider all of their income. This includes not only just wages but also interest income, side jobs, and overtime. Even a bit of extra monthly income can make a difference in the price of the home they can buy.
Before going into the real estate market most borrowers will benefit from obtaining a pre-qualification from their bank. A pre-qualification will take the borrower's basic financial information and calculate out the amount that the bank will likely be willing to lend to them. While pre-qualifications aren't completely precise they will give the borrower a good idea of where they stand and which properties they should be focusing on.